Contact Information
Melissa Cynova
mcynova@gmail.com
314-499-0769
Bio
Melissa Cynova is an award winning author and tarot reader from St. Louis, MO. She spends her days writing around four black cats, two dogs, and a tortoise named Phil. When she's not working, you'll find her hanging out with her husband and two kiddos, completing ridiculous jigsaw puzzles, and trying to figure out how SHIELD got the tesseract from the Ice Demons.
Promotional Information
Independent Publisher Award Winner – Best First Book, for Kitchen Table Tarot
COVR Award winner – Best Divination Book, Book of the Year for Kitchen Table Tarot
Publisher's Weekly Review
Kitchen Table Tarot: Pull Up a Chair, Shuffle the Cards, and Let's Talk Tarot
Melissa Cynova. Llewellyn, $16.99 trade paper (288p) ISBN 978-0-7387-5077-4
In an upbeat, conversational style, Cynova's debut explores the fascinating study of tarot card reading, describing the practice as a form of storytelling. The first few chapters discuss the author's background, the ethics of reading, and the most user-friendly decks for beginners. The remainder of the book, which is much more interesting, focuses on the eclectic images on the cards and what they represent. The book is aimed at beginners, but experts will also find that it deepens their understanding of the varied images. Cynova does a great job of explaining the intriguing meanings of the cards as well as their alternate interpretations. Readers will immerse themselves in the fascinating visuals as they challenge themselves to decipher the cards' difficult and somewhat confusing contexts. Those new to tarot reading may feel perplexed by the numerous and peculiar images and the slew of card decks to choose from; however, the author asserts that delving into tarot should be fun—particularly for the uninitiated. This informative and entertaining guide is sure to be popular with anyone interested in discovering tarot. (Apr.)
Midwest Book Review
Kitchen Table Tarot
Melissa Cynova
Llewellyn Publications
2143 Wooddale Drive, Woodbury, MN 55125
www.llewellyn.com
9780738750774, $16.99, PB, 288pp, www.amazon.com
From the early ages of 14, Melissa Cynova has been sitting down with friends and neighbors who are curious about the tarot. She's heard all the questions and misconceptions that can confuse newcomers (and sometimes more experienced readers, too). Drawing upon her many years of experience and expertise, "Mellisa has now written "Kitchen Table Tarot" as an instructional guide and reference for anyone looking for no-nonsense lessons with a warm, friendly, and knowledgeable teacher. Readers will benefit from Melissa's sharing of straightforward guidance on decks, spreads, card meanings, and symbols. Filled with real-life examples and personal explanations of what it's like to read the cards, "Kitchen Table Tarot" tells it like it is and provides the information even the most novice of tarot readers will need to use their decks with confidence. Impressively informative, exceptionally well written, thoroughly 'user friendly' in organization and presentation, "Kitchen Table Tarot" is a complete course of training in the use of the tarot under one cover. While very highly recommended for personal, community, and academic library Metaphysical Studies collections in general, and Tarot supplemental studies reading lists in particular, it should be noted that "Kitchen Table Tarot" is also available in a Kindle format ($9.99).
Goodreads Review – by Maggie Stiefvater
This will be my new go-to recommendation when folks ask me about starting tarot.
For some folks, tarot is a highly mystical experience, requiring ritual and song, candles and wall-hangings, crystals and gnomes. I respect that. Go for it. But for me, tarot's always been a more mundane spiritual experience, one that notches into many spiritual beliefs and lifestyles. A conversation starter when people come to my house for the first time, or for connecting at the end of a long conference day. It's just a way to dig into issues that you don't otherwise know how to solve, celebrate the good parts of yourself, and connect with people in a way that digs deep beyond that odious poison, small talk.
Cynova tackles the tarot with this same big-picture, no-nonsense approach. If you're looking for a deep study of the cards' history or an analysis of why the color blue appears on such card or a guide for how to spiritually dishwash the bad energy out of your cards, this isn't the book for you; there are others that do that well. If you're looking for an intuitive overview of how tarot might work for you and a pragmatic guide to learning the cards' core meanings, this book is the one. It's a warm, fast read with plenty of swearing, and I wish it could be bundled with every one of my tarot decks instead of the little one I wrote. It's that good. Buy one for you and one for your best friend, and go through it together. A+

Book Information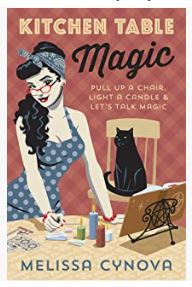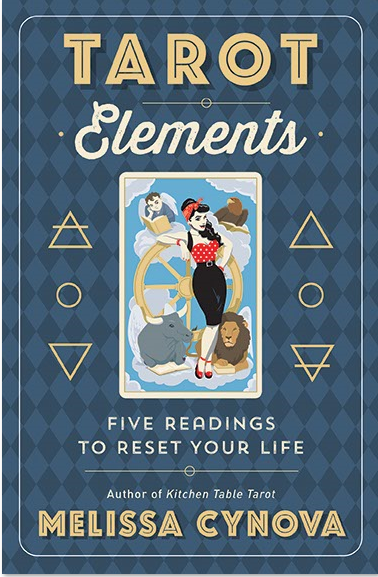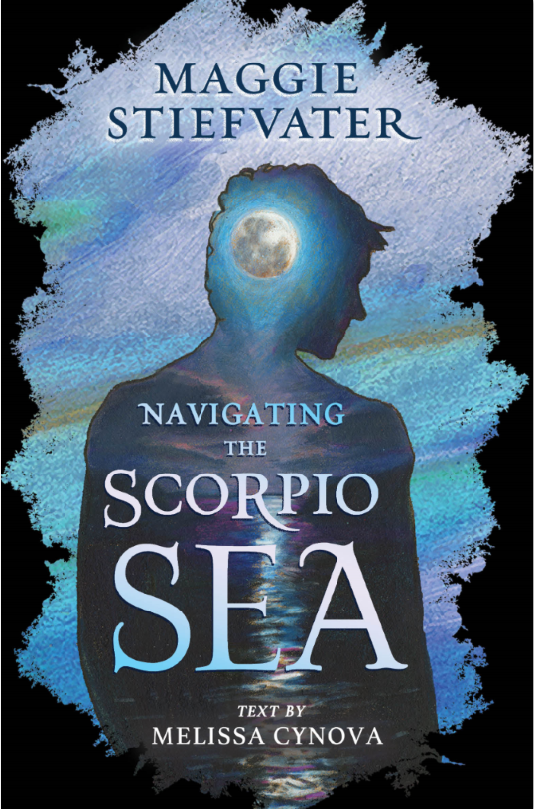 Kitchen Table Tarot
Melissa Cynova
2017, Llewellyn Publications
10.99, 288 pages, New Age/Tarot
Kitchen Table Magic
Melissa Cynova
2020, Llewellyn Publications
10.99, 226 Pages, New Age/Magic
Tarot Elements
Melissa Cynova
2019, Llewellyn Publications
12.69, 288 Pages, New Age/Tarot
The Scorpio Sea Tarot / Navigating the Scorpio Sea
Maggie Stiefvater and Melissa Cynova
2020, Llewellyn Publications
31.99, 192 Pages + Tarot Deck, New Age/Tarot